Our Services
 Our Build Services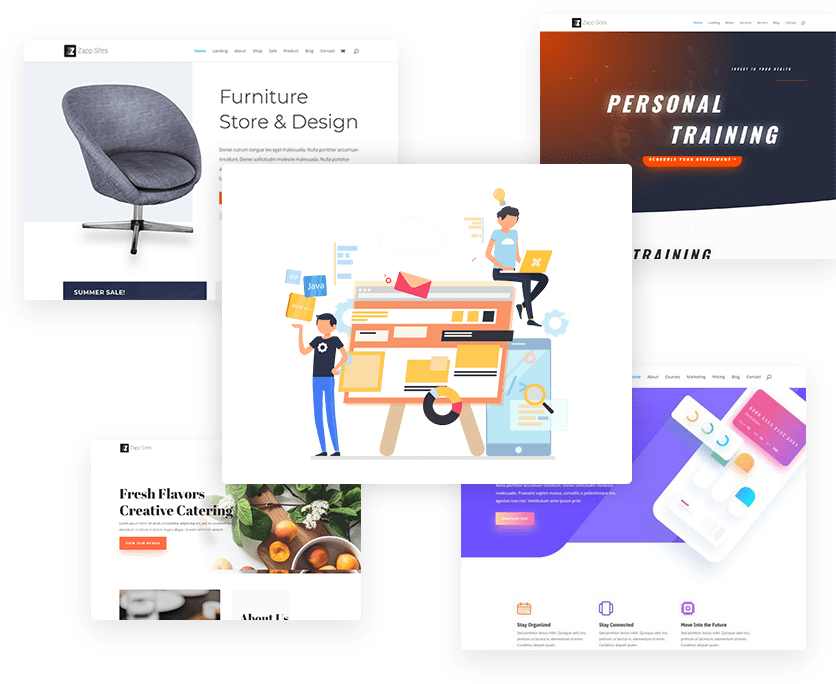 Build With Our Flexible Services
We offer a range of innovative services which give you complete control over every aspect of your build from start to finish.
If you'd like:
Upfront pricing with no hidden fees
A fully customisable service that saves time and money
The opportunity to put your stamp on your website
We'd love to work with you.
Customisable Website Design
Fully responsive websites that give every audience member the same experience. If you've ever battled with Wix and GoDaddy, you'll know the painful process of trying to configure a site to fit different screens.
Wouldn't it be fantastic if you could have a fully responsive website without having to lift a finger or blow your budget?
With us, you can.
Zapp offers fully customisable templates which are designed for maximum functionality. We use this system because it enables us to provide value for money.
Each template is customisable to your font, colour and graphic choices – meaning you get all the features bespoke web design companies offer at a fraction of the price.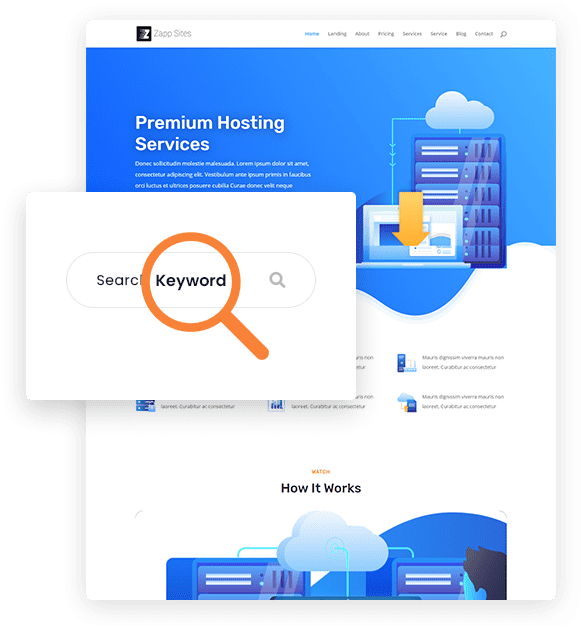 Are you ready to Build your website with Zaap ?
Would you Like to find out More?
Our specialists can look at your current website structure, analyse your SEO health and look at your
competitors to gain vital insights about:
Every website needs to show visitors that security and privacy are at the top of their priority list. We'll make sure your site has the proper certification and policies in place.
Make any template your own with our fully customisable service. We'll do everything we can to make your vision come to life while ensuring each element is fully responsive.
We don't believe in locking people into contracts, which is why your site is 100% yours. As soon as you review and accept the finished site, you have complete control of it.
Powerful Integrations to Showcase,
Grow and Scale your Business.

Reviews Integration
Showcase what makes your business special and promote customer trust by displaying your reviews.

Free Marketing Tool Integrations
Marketing tools simplify your operations and enable you to keep on top of everything related to promoting your business. We offer a free integration service, so you tell us what you need, and we'll take care of it.

Content Editor
Manage your content with zero coding knowledge. Our easy to use content editor gives you complete control over your blog posts, images and web pages so you can adapt and add to your site at any time.

Social Media
Social Media can expose your company to new audiences, but sharing your content and streamlining the process allows you to scale your business without lifting a finger.
We'll set up the integration and make sure it's easy for your readers to share the content they enjoy. 

High-Quality Copywriting
If your website design is the face of your business, then its copy is the heart. Those small sentences are the difference between building a relationship with your audience or being left behind. 
With so many opportunities to resonate with your audience, it's essential that you don't miss them. Zapp works with talented copywriters to ensure your website acts as a personal sales funnel. 
We achieve this by using a mixture of data-driven insights and creativity to deliver copywriting that converts. 
From SEO focused copy to words that drive forward sales, we've worked on a range of exciting projects and would love yours to be our next.

Logo Design & Brand Collateral
Coca-Cola, McDonald's and Nike all have one thing in common; they're immediately recognisable by their logo. If you want an original design that encapsulates your business identity and message, our creative specialists can help. 
Make the right impression with brand collateral that engages an audience and keeps you in their mind. 

Booking & Calendar Integrations
Take bookings and make sure you can turn leads by offering free consultations. Our calendar and booking integrations give your business a distinct edge by ensuring you can provide convenience for your customers.

Booking and Calendar Management
We live in a see it and grab it society, and people place convenience as their number one priority. So it's no surprise that they don't want to pick up the phone. A simple booking and calendar management system can streamline the customer journey from browsing to committed in a matter of seconds. 

Google Analytics
Google Analytics is a vital tool if you want to evaluate the progress of your marketing strategy. It tells you who's coming to your site, how long they're staying on each page and reveals the content they interact with most. 
We'll install and help you set up this indispensable tool so you know how to read the data and make the right decisions. 

Contact Form
Simple contact forms are fine, but they often lack functionality. Our forms are designed to ensure you can signpost each query to the correct department or individual.
Our transparent system means you know exactly what you'll spend from start to finish. No nasty surprises and zero annoying phone calls. All you need to do is select your template and choose from our creative and technical add-ons.